Plant Garden Greenhouse 4 Tier Rack Stands, 40" W x 20" D x 65" H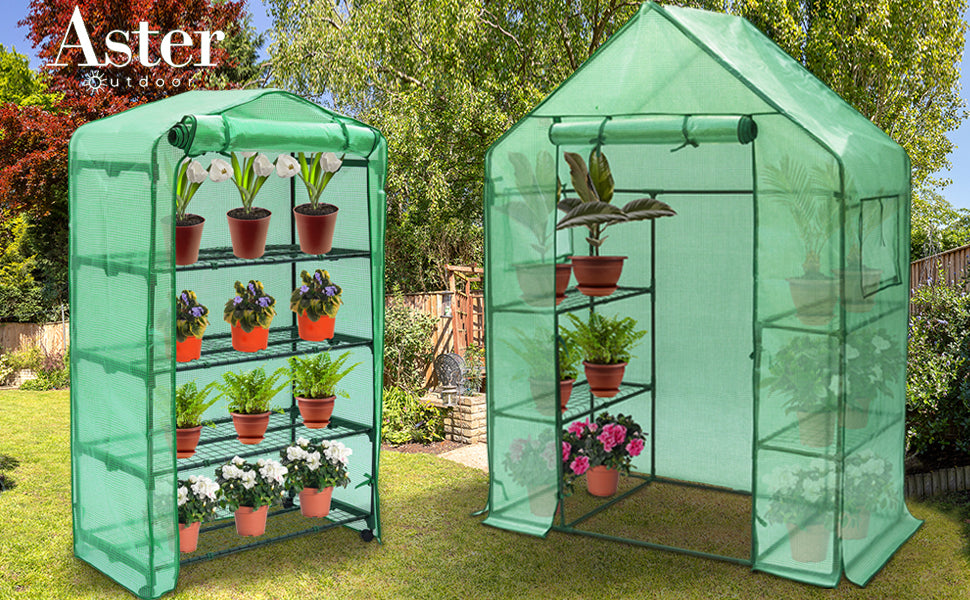 PORTABLE MINI GREENHOUSE WITH WHEELS - The four locking wheels allow the mini greenhouse indoors to be moved into the ideal sunny location based on seasonal weather patterns. For stationary use, the wheels don't have to be attached during the assembly process.
LARGE LOAD-BEARING CAPACITY - The mini greenhouse indoor has a large load-bearing capacity and the shelf weight limit is 33 lbs.
FOUR-TIER SHELVING SYSTEM - The mini greenhouse for indoor/outside heavy duty each shelf is spaced 13" apart to accommodate larger plants and allow for air circulation. The open grid shelf surface allows for dust, dirt, and water to filter out through the bottom of the mini greenhouse.
ZIPPERED DOOR PANEL - Maintaining the ideal climate is important, and the zippered door panel can be rolled up and secured in an open position on warm, sunny days for some fresh air inside the mini greenhouse for outdoor, or zipped closed on cooler days to keep heat and moisture within the portable greenhouse. The zippered door panel has a 55" height opening and is 32" wide.
DURABLE WINTER GREENHOUSE - Made with a steel frame with a powder coat green paint finish, the PE outer shell will weather the seasons and prevent sun & wind burn. Overall dimensions: 40"W x 20" D x 65"H, this mini greenhouse indoor has an easy, tool-free assembly process.